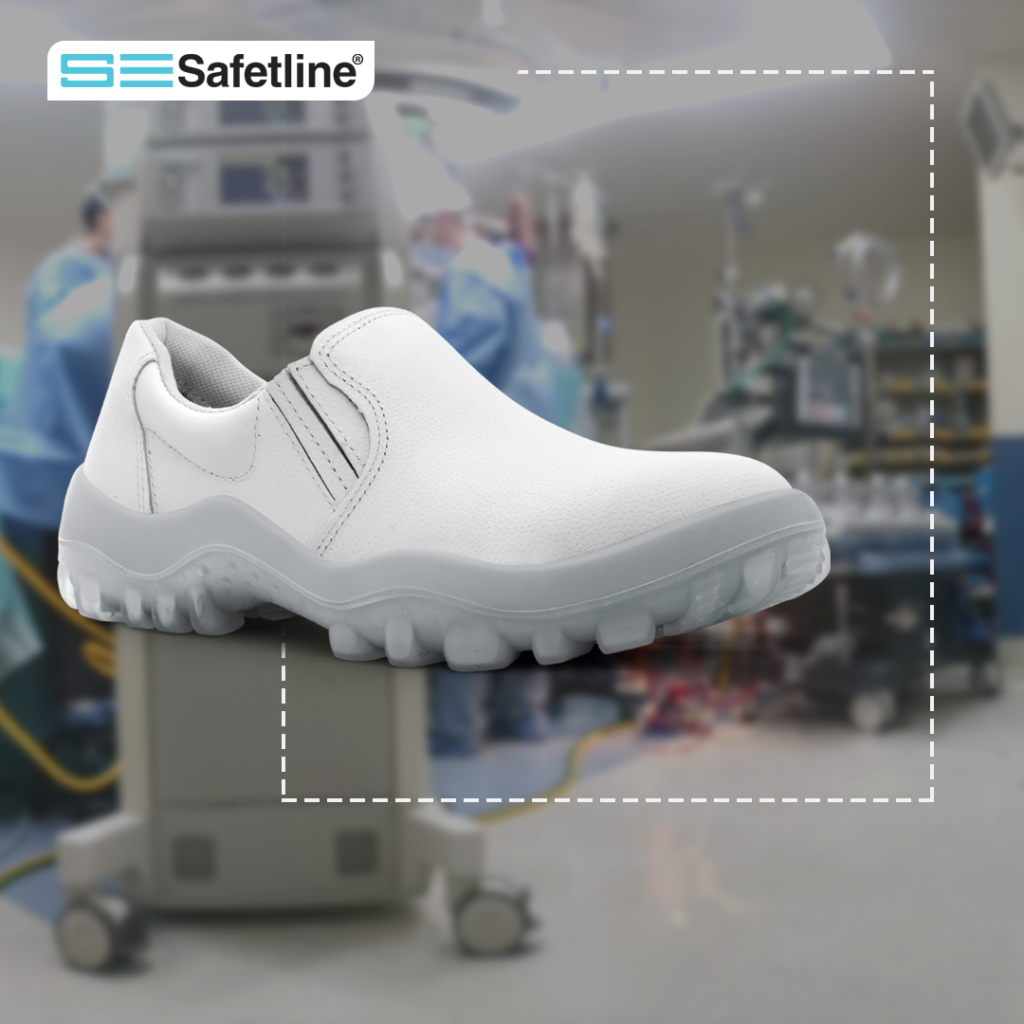 Footwear for healthcare professionals
Taking good care of those who care for other people is essential. Therefore, footwear for health professionals needs to offer absolute safety and comfort, in addition to practicality and style.
Nurses, nursing technicians and assistants, doctors, surgeons, anesthetists, instrumentalists, physiotherapists, nutritionists and so many other workers in the field, almost always have long hours and a good part spent standing or walking. They are also professionals exposed to various risks, such as biological and ergonomic.
STANDARDIZATION
Regulatory Norm 32 (Safety and Health at Work in Health Services) establishes the basic guidelines for the implementation of measures to protect the safety and health of health service workers, as well as those who carry out health promotion and assistance activities. generally.
Among the various preventive measures, labor regulations determine the use of Personal Protective Equipment and prohibit the use of open shoes, that is, that expose the heel, the back, the sides and the toes.
However, more than purchasing a closed model, the user needs to be aware of other important requirements for their protection, well-being and consequent greater productivity.
To meet all requirements, footwear for health professionals must offer comfort, quality, durability, practicality and style, whether they are sneakers, sneakers, shoes, loafers, boots or boots.
Therefore, when choosing the ideal pair, it is necessary to consider items such as material and technologies used in manufacturing, anatomy, weight, type of insole, adhesion to the ground, practicality, quality, design and cost-benefit.
DETAILS – Footwear for healthcare professionals
Comfort is largely the result of proper foot adjustment. A poorly adjusted model, which is not anatomically correct, will not be comfortable. Footwear for health professionals should also provide a balance between support and softness, and they must be neither too soft nor too hard.
Another important item is adherence to the floor, as these workers often perform their tasks on surfaces with water, body fluids or other liquids. Therefore, the model must have sole with non-slip technology and materials that help to keep it stable while providing traction. It must also be flexible enough to allow comfortable walking.
As for what qualifies as ideal footwear weight for health professionals, it varies from person to person. However, in general, the best option is models that are not too heavy or clumsy, as the feet may become more tired throughout the work shift. A lighter shoe is better, as long as it offers adequate stability and protection.
SUPPORT
Footwear for healthcare professionals must also provide substantial support for the user's feet, legs and back, as the user may need to lift weight, which requires sufficient stability. The thickness, material, general support and flexibility of professional footwear also contribute to its total support.
A variety of materials can be used in making professional footwear for the health area, but leather stands out. Microfiber, equally comfortable, light and durable, is also among the outstanding raw materials.
PALMILLS
The insoles of footwear for healthcare professionals should provide cushioning, comfort and stability, as well as an adjustment that is neither too loose nor too soft. Several models come with removable insoles, which allow the insertion of custom orthoses.
The insoles of good professional footwear, as well as their leather, must provide sufficient ventilation to keep your feet cool and comfortable throughout the work shift. Antimicrobial properties, which prevent unpleasant odor, are also important.
STYLE
The style of professional footwear depends on a variety of factors, including the user's personal preference for design, colors and other characteristics. However, the workplace may have guidelines that must be followed.
If, on the other hand, there is more freedom in choosing, the most important thing is always to choose really safe shoes, which offer the necessary protection against accidents and occupational diseases.
COST BENEFIT
Regardless of the type of professional footwear, there is a wide range of prices and qualities on the market. It is important to select a model that suits the budget, but the main thing is to evaluate the cost-benefit of the product. After all, when this calculation is done, even investing a little more will be cheaper.
In its portfolio, Safetline has white line shoes and boots manufactured with microfiber or water-repellent fleece. They are products developed with the highest technologies and modern design for total safety and comfort for healthcare professionals. Access: www.safetline.com.br.